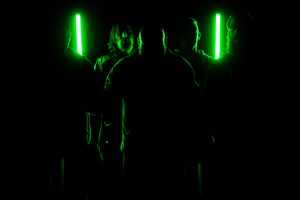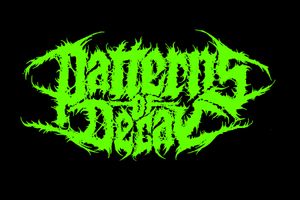 Self Titled Album (2022) Reviews
 "Patterns Of Decay is now streaming the video for their single "Of Famine And Plague." ...the song...is practically teeming with energy and may very well explode at any given second. So watch out." - Greg Kennelty w/ Metal Injection
 https://metalinjection.net/video/patterns-of-decay-rages-through-new-single-of-famine-and-plague
"...this album feels hand-crafted with circle pits in mind. First pumping hardcore sections, thrashy guitar solos and stomping beats will have you longing to break something or someone. While the album is on the longer side for this genre at 52 minutes, each track flows relentlessly from one to the next and each minute is used to its fullest". - Corinne Westbrook w/ Knotfest.com
https://knotfest.com/bandcamp-roulette/bandcamp-roulette-patterns-of-decay-unleash-hardcore-infused-death-metal-fury/ 
 "...Patterns of Decay are monstrously incisive with their blend of metalcore, death metal and breakneck-speed melodies on their second album...". - Anurag Tagat and David Britto w/ Rolling Stone (India)
"Patterns of Decay has crafted a solid statement with their sophomore self-titled LP.  ...the quintet deftly balances an experimental streak with more pervasive and prevalent genre archetypes.  The atypical elements are tastefully done and blend well in the overall compositions, adding just enough personality to diversify the proceedings when chromaticism threatens to blur the lines. Dense, modern, with a few left turns to tread and lots of ideas to chew on". - ShredViking w/ Toilet ov Hell
 https://toiletovhell.com/review-patterns-of-decay-s-t/
"The contrasting vocals of Christian Contello and guitarist Matthew Stirrat trade off against each other perfectly over crisply produced guitars and percussion... Each song flows relentlessly from one to another, as does the varying ferocious styles the band swirl together in the melting pot to great effect... This is a band that certainly knows what they are doing, and each track is perfectly arranged with skilled musicianship". - ABSTRAKT_SOUL_ w/ Ghost Cult Magazine
 https://www.seaoftranquility.org/index.php
 "This album is full of solid metal riffs, sometimes technical, sometimes groovy, sometimes thrashy, but always notable. The drumming on the album is also top notch, and the bassist even gets a track to demonstrate his wears, showing some impressive tapping skills on the track "Ru(m)ination"". - Brandon Miles w/ Sea of Tranquility
 https://www.ghostcultmag.com/album-review-patterns-of-decay-patterns-of-decay/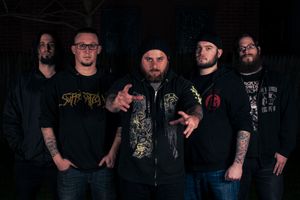 Suicide Notes in Comic Sans (2018) Reviews
Patterns Of Decay || Suicide Notes In Comic Sans || Album Review 
This Friday (3/9/18) Patterns Of Decay will be releasing their debut album, Suicide Notes In Comic Sans.  Washed Up will be hosting the album release show at Amityville Music Hall (198 Broadway Amityville, NY), which is also this Friday, and will feature live sets from Prey Upon, Thracian, Wreath Of Tongues, More Of Myself To Kill, and of course, Patterns Of Decay.  Come to the show to pick up a hard copy of their new album!! Doors are at 6pm,$10 at the door, 16+(w/ID). 
Patterns Of Decay Suicide Notes In Comic Sans Recorded at Liquid Studios (NY/VA) Engineered/Mastered by Dan Thabet Additional Engineering by Johnny Sohl & Marcus Lam Review by Eric Olivier of Washed Up Media 
Hailing from Long Island, New York, 5-piece outfit Patterns of Decay are here to give metalcore the much-needed shot in the arm it deserves.  If that word "metalcore" has already turned some of you away, I'll put this simply; your loss.  As someone who has personally more or less moved on from the genre that dominated my earlier years of listening to heavy music, I found Patterns of Decay's first release in 3 years Suicide Notes in Comic Sans breathing new life into a genre I used to hold close. 
Forming in early 2014, Patterns of Decay released their first EP Malicious Intent that following November.  As a starting point for listeners, the 6-track debut is a faithful introduction to get yourself acquainted with these guys' brand of metal, and a glimpse into their penchant for not taking themselves too seriously.  After writing the material that would become their next release, the band found themselves in the midst of a couple lineup changes.  Upon parting ways with their original drummer and bass player in mid-2016, the band's future became uncertain.  Enter Tony Romano (drums) and Jesse Hermann (bass), who both joined the band in their time of need and stepped up in order to fill the pocket left behind by the previous rhythm section.  The rest of the band is rounded out by Matthew Stirrat & Dan Gold on guitars, and Christian Contello taking care of the vocals.  Now that you know the band, let's get to the album. 
Suicide Notes in Comic Sans starts off with a fun little skit involving a couple members of the band "allegedly" trying to light a joint when one of them suggests kicking out half of the band, before a police siren is heard and the album kicks in.  This goes back to my point before about this band not taking themselves too seriously; easily one of my favorite qualities about them.  That's not to say the band has forgone competent writing and replaced it with jokes, keep listening and you'll find the band can do both.  The first track "Glasshole" opens with a blistering guitar riff, and the rest of the band soon follows suit.  As the band deconstructs from the intro riff, they all introduce themselves vicariously through their respective instruments.  The guitars unleash a chugfest on your ears while the drums keep time with machine gun paced double bass, the low end hugs the rhythm like it's holding on for dear life, and it doesn't take long to see what direction this album is headed in.  Christian Contello's voice is the next piece of the puzzle the listener is introduced to.  It's confident and appropriate, it barks and shrieks, and it even winds down to an exasperated sing/yell when the song starts to slow, but not before the band gets back to trying to get you to break your own neck while headbanging to the rhythm.  The song ends with a hectic minor riff and a guest vocal spot from Anthony Copozzi of Thracian (who doesn't love guest vocals?!).  The opening track does a great job at introducing the tone and pace of things to come, something that might seem obvious of an opening track but also something that too many bands overlook 
The middle of the album doesn't let up from there.  The second track "Tricksy Hobbitses" steps up the pace and keeps you on your toes with breakdowns that are more complicated than you'd expect them to be.  Throw in dichotic vocal overlays where Christian gets to showcase his range and what more can you ask for?  Songs like "I'm Sorry, Rum-Ham!" show that the band has the writing prowess to captivate even the most skeptical death metal fan with its lightning fast guitar and drum riffs, even sporting a shreddy solo, and earth crushing slowdown, while songs like "I Fucked A Ghost (But It's Okay Because I'm a Ghost Too)" show where the band isn't afraid to get a little more flowy and catchy, something I feel the band does best.  This song culminates with a chorus that will get stuck in your head for days, and the band really needs to be praised for being able to pull that off without any cheese.  Of course, it's not long before the song ends on another crushing breakdown that reminds you this band cut its teeth on all things heavy. 
The tail end of the album has a surprising amount of bite in it before it makes its exit.  "Stung By A Horse" is nothing but a scorcher from beginning to end, if this song doesn't make you want to start a circle pit in your own bedroom, either your legs are broken or your deaf.  And if it's the latter, what are you doing reading album reviews?  "By Grabthar's Hammer…What A Savings…" is a track where the band's influences seem to have all come together in epic fashion.  Equal parts heavy, catchy, and theatrical, the band tries to get a little weird here, and it winds up being one of the stand out tracks on the album.  The light-hearted guitar leads, the vocal pacing and stylings make for what in my opinion, could be a song perfectly suited for metal radio stations.  You get to hear clean vocals at the end of this song, and they couldn't have showed up at a more appropriate time in the album.  Not only are they a perfect fit for the part, but they provide a short respite from the assault of heaviness that comprises the other ninety percent of the writing, giving the listener a bit of an ebb and flow as to not grow tired.  There's something about the title of the song "Buffalo Child Wings" that just makes me laugh every time I read it, which right off the bat made me eager to listen to the song.  The second to last song on the album tries to find a middle ground between slow and fast, happy and sad, heavy and catchy, and as a result you're left seven songs deep into an album which has yet to get stale.  Suicide Notes in Comic Sans ends with "I Have to Return Some Videotapes…" a reference to Brest Easton Ellis' controversial 1991 novel American Psycho.  If you're familiar with this work, or perhaps the 2000 film adaptation of the same name, you're undoubtedly expecting this album to close on a pretty brutal note (spoiler alert: it does).  But brutality isn't all that Patterns of Decay has to offer in their send off track, this song once again accumulates all the things that make this band worth listening to.  It opens with your meat and potatoes alternative picking metal riff, Christian starts off yelling but he's full on belting out vocals by the end of this one, there's another guitar solo in there, and of course, another punishing breakdown before things come to a close. 
I started off this write up trying to downplay the fact that Patterns of Decay plays, for lack of a better word, "metalcore".  And while that may seem like a backhanded compliment to some of you, I truly mean that this band has produced a piece of work more revitalizing to the genre than anything I've heard out of a major label in quite some time.  Patterns reminds me of a time when metal used to be fun, and badass and all things in between.  They remind me of when bands like Killswitch Engage, As I Lay Dying, and All That Remains used to be on top of the world, and they figured out how to do it without sounding dated in the least bit.  They've managed to capture the essence of a simpler time, without producing music that feels dumbed down, and for that you should be giving these guys an honest listen.  Suicide Notes in Comic Sans was recorded with Liquid Studios and is out March 9, 2018.  Grab your copy when it drops. 
Monday 03.05.18 
Posted by Eric Olivier of Washed Up Media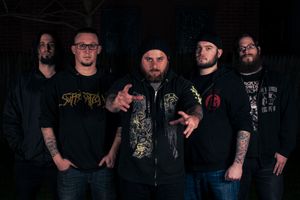 Patterns of Decay "Suicide Notes in Comic Sans" EP Review 
By Derek Soto of Sinestra Studios | Published 
Feb 09 2018 
     Long Island based metal group "Patterns of Decay" snuck an advanced copy of their new EP "Suicide Notes in Comic Sans" to my doorstep. While the title is bewildering enough (I.E, the title track names), you cannot help but admit that this band is TAKING NO PRISONERS. By that term, I mean that this EP is one hell of a listen. It has been three years since their previous EP, Malicious Intent, was released. That EP being seven songs, does not stack up to the sound quality and mastering of the new EP. With songs like Glasshole, Stung By A Horse, Buffalo Child Wings, and the Always Sunny in Philadelphia referenced, "Im Sorry, Rum-Ham!, the band has a groove that sets them apart from the rest of the five boroughs AND EVEN their own Long Island turf. There has been a major evolution with this band in sound quality in terms of vocals (check out backup singer and guitarist Matt Stirrat's clean singing for proof), and fluidity between the band as a whole. The songs feel more cohesive and bring a flare that each band member has thrown into the mix with their personal performances. Something that I felt was a bit missing with their last EP. Songs can be more than just songs, if you're able to read the musicianship individually, then you can envision their personalities as people. That is what Patterns nailed here. Then again, i'm not surprised by the results of this final product, the crew went completely above and beyond for this. 
     One of my personal favorite songs off the eight song EP, entitled "I F**ked A Ghost (But Its Okay Because I'm A Ghost Too)", I have heard live when they opened for All That Remains at Mulcahy's in Long Island last year. To finally hear this song from the studio is absolutely worth the wait. If you wish to compare the E.P's, the link is posted right below for "Malicious Intent". Local musicians will range far and wide within this industry, but this band right here is something special. An album you'd thoroughly enjoy, check out some live video I captured of them from their set at Mulcahys, their Bandcamp and Instagram pages and also behind the scenes material. I am very happy to see this band prosper, as a fellow Pantages showcase alumni, and as dear friends… "Suicide Notes in Comic Sans" is a deadly serious metal trip that explores you to learn who you should be focused on.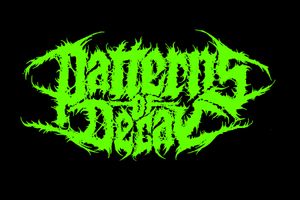 Patterns of Decay – Suicide Notes in Comic Sans 
awolfson166 of Heavy New York
February 11, 2018
Definitely a band you will see on future Summer Slaughter lineups. Patterns of decay makes a brutal record of what anyone would love about both old school and new school death metal. This record gives you no room to breathe and once you are on that train, you will be holding on for dear life, and you are going to want to hold on. This is a very consistent record where every song is equally brutal and draws you in more with rather humorous and original song titles. Do not miss out on this record!!!!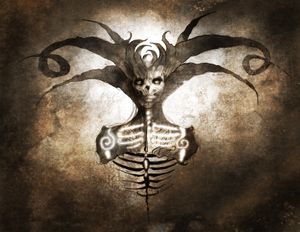 Patterns Of Decay-Suicide Notes In Comic Sans LP (2018) 
 Preached by Chris Morris of Dead Air Pulpit on March 13, 2018 
Country: USA 
Genre: Post Hardcore, Hardcore, Punk, Metal 
Label: Self-Released 
Tracks: 8 
Length: 31.25' 
Patterns Of Decay is a five piece band from Long Island, NY who formed in April of 2014.  Patterns Of Decay play a killer style of music that incorporates elements of post hardcore, hardcore, punk, and technical metal within their sound.  Musically, Patterns Of Decay can be said to be influenced by bands such as Dillinger Escape Plan, All Else Failed, Poison The Well, Misery Signals, Everytime I Die and other like-minded bands.  Since forming in 2014, Patterns Of Decay have released a six song EP titled Malicious Intent in November of 2014.  Suicide Notes In Comic Sans is the band's latest eight song LP, which was released on March 8th, 2018.  On Suicide Notes In Comic Sans, Patterns Of Decay offer up eight tracks of volatile and brutal as fuck sounding post hardcore, hardcore, punk, and metal.  Overall, Suicide Notes In Comic Sans makes for an awesome listen and definitely should not be missed.  Great stuff!  Enjoy!